Pastors Mark and Nancy Stern have been married 37 years and have three children and twelve grandchildren. They have been serving the Lord for the past 30+ years, mostly behind the scenes, but in 2007 their world was changed and God thrust them to the forefront.
Their daughter, Janah, was murdered by her ex-husband at a local restaurant where she worked.  Where Satan attempted to destroy, God raised up a standard against him.  Through this tragedy, Mark and Nancy have been able, through the grace of God, to minister on unforgiveness, bitterness and reconciliation to the body of Christ.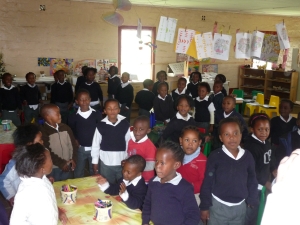 While in South Africa last year at Dr. Gustav DuToit's church, Lofdal World Prayer Center, they gave their testimony and there was an awesome move of the Holy Spirit. Pastor Gustav set up meetings for them in the area because he felt that the ministry that God has given them is a needed one.
Mark and Nancy were ordained in 2000 and again in 2005 as five-fold ministers. The official name of their ministry is Oasis Ministries International.
The book available through this website about their life experiences is called Sufficient Grace. Mark and Nancy operate in the gifts of the Spirit as the Lord leads in their meetings. They have ministered in England, Northern Ireland, South Africa, France and various states in the USA.
Pastors Mark and Nancy minister at their home church, Oasis Church, and continue to travel as God leads them.  Currently they are getting ready for a missions trip to South Africa where they will be sharing the gospel for six weeks.